There are more and more WordPress themes for photographers popping up these days and it seems like almost every week new ones are being released.  That can make it quite daunting of a task to find the perfect theme for your photography site.  If you do a search on Themeforest(TF) right now there are currently 421 different themes that show up when you search for "photography" on TF.  That's when you fine-tune your search to only include WordPress themes.  If you want to fine-tune your results even more you can sort by sales as well.  And that's what I've done here.
Here's a list of 30 of the Most Popular (Top Selling) WordPress photography themes that will help you showcase your photographs professionally even without coding skills.
U-Design
U-Design has sold over $419,00.00 worth of this theme. That's over 11,000 copies! This theme requires no programming skills for you to build a website. It is SEO friendly so you don't need to sweat in ranking on popular search engines.  It comes with 6 unique Homepage sliders, 200+ fonts and several other powerful features.
King Size
King Size has sold over 5,700 copies and remains quite popular.  This theme provides you with a fullscreen background slider which is great in showcasing beautiful images. You can feature stunning landscape shots or your client portfolio.  Plus, you get 5 gallery types to showcase your work.
Dandelion
Dandelion is right up there with King Size selling over 5,600 copies.  This theme provides every functionality you require to showcase your work in a professional manner. You can easily switch the color scheme which makes customizing a breeze. This is suitable for any business, portfolio and even for personal websites.
DynamiX
Dynamix has sold over 4800 copies.  This robust theme lives up to its name. It comes with a special feature that allows you to create your own skins which makes this theme fit for a wide variety of usage. It is so easy to change the look of the website in just a few clicks.
Core
If you want a minimalist theme packed with the latest WordPress features then you have to get this theme. It comes with 3 Homepage styles, 4 unique portfolio styles, and 8 custom widgets. Simple, elegant and still well-equipped to build an amazing website.  Core has sold over 4,000 copies.
LondonCreative+
This theme has a user-friendly dropdown navigation with unlimited levels. It also comes with a unique spinning slider buttons, PrettyPhoto plugin, 2 message buttons plus an awesome slider for your featured images. What else can you ask for?  Over 4,000 copies of this theme have been sold.
Photo Nexus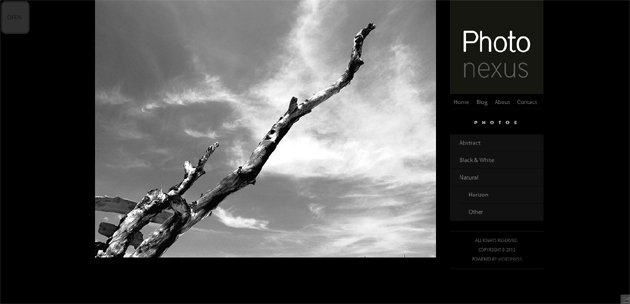 This theme has a simple yet striking design that helps highlight the content. This unique theme is suitable for anyone looking for a convenient way to showcase artworks, photographs or any other form of designs.  Over 3,000 copies sold.
PureVISION
With very minimal effort, you can create a wonderful website in seconds. Choose from over 200 beautiful fonts, 5 homepage slider and from several page templates. This is SEO ready so you'll find your website rank on search engines in no time.  Over 2,700 copies sold.
RockWell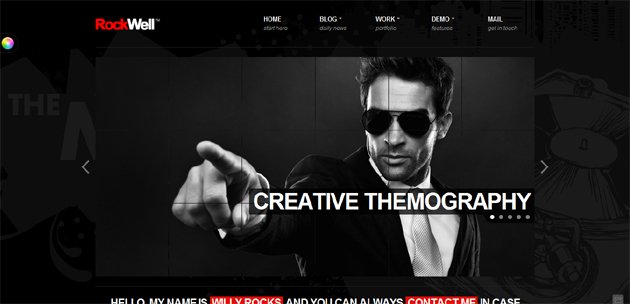 Unleash your creativity with this easy to customize and easy to use WordPress theme that is built with unique features. This versatile theme is suitable for bloggers, business owners, photographers and designers.  Over 2500 copies sold.
Village
For photography enthusiasts or anybody who is passionate about the arts, this theme provides a new interesting way to display your work. It comes with a unique jQuery wall which is a great interaction feature plus the floating slideshow navigation is really cool too.  Over 2500 copies sold.
Sideways
Pick between a horizontal or grid layout for your new portfolio theme. This eye candy comes with a full screen background that automatically scales to fit any screen resolution. The elegant typography is also irresistible.
Contrast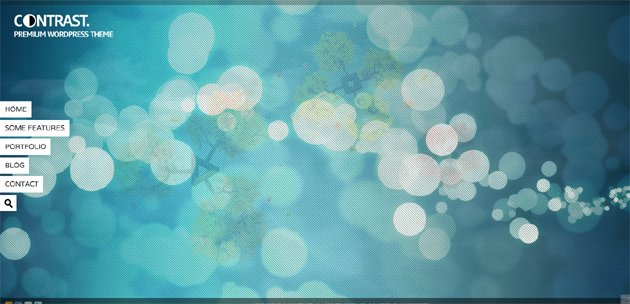 If you're looking for something different and out of the ordinary then this theme is for you. It's full screen background supports a wide variety of options from images to videos to even a Google Map! This theme is compatible for photographers, web designers, etc.
KIN
This theme is not your typical minimalist theme since it comes with 2 style variations plus it supports both videos and image gallery. The unobtrusive jQuery effects make it every more unique and more appealing.
Invictus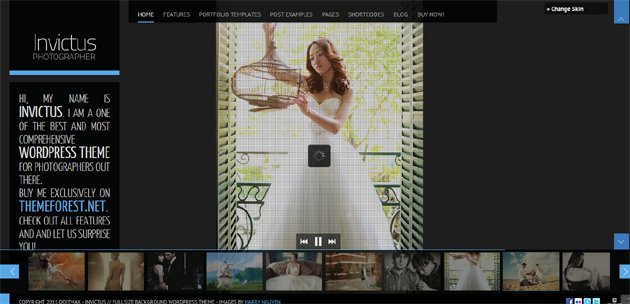 This is most compatible for photographers, designers, multimedia artists or anyone else who wants to creatively display images and videos. Choose between 2 color schemes to easily customize this theme.
Duotive Three
Choose from 18 predefined color schemes or create your own using the color picker. Turn your website into an interaction hub with the help of the 7 powerful widgets. Easily upload a favicon through the Duotive Admin Panel.
Avisio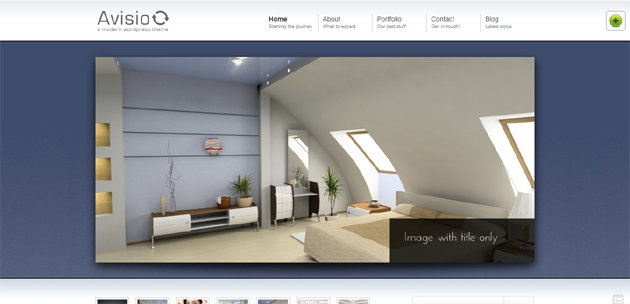 Super easy to customize everything! Take full advantage of the new cool WordPress 3 features that comes with this theme. You can easily create skins with just a few clicks. Comes with built-in social media buttons for easy sharing among your network.
Folioway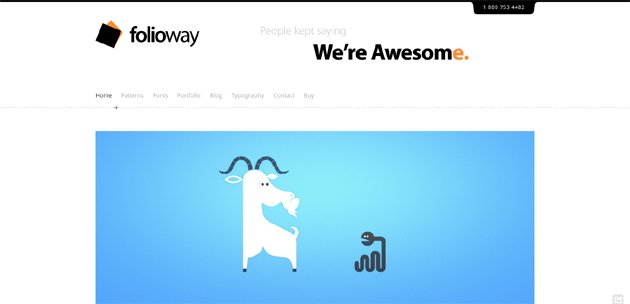 Pixel-perfect premium theme packed with amazing features. Its elegant design and clean layout will help highlight your content. It is incredibly customizable, simple to use and a great theme for displaying your work.
Breeze
Designed for corporate use which makes it inherently very professional and sophisticated in aesthetics. It is also great for showcasing multimedia works or previous projects to form a portfolio or even for personal blogging purposes.
Chocolate WP
Here's a sweet deal! This theme comes with highly sophisticated and precise combo of light gradients and shadows that create an appealing look for your website.  Easily customize your site with the robust Background builder.
Studio Box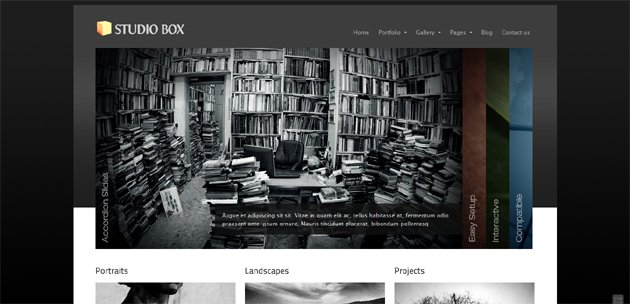 This theme introduces a simple way to build a comprehensive online portfolio with just a short amount of time. Impress your clients and prospects by showcasing your creative work with this elegant theme.
DK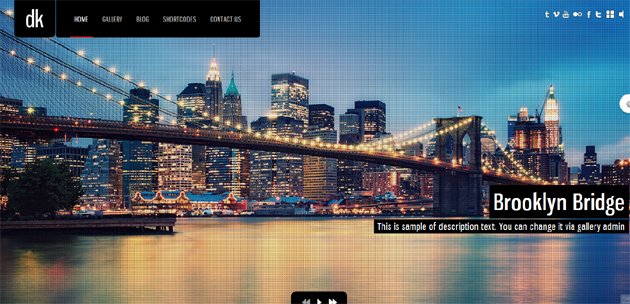 An awesome theme that is best for showcasing large images. The fullscreen slideshow for photo gallery is a stunning feature that perfectly captures every pixel of your images. With several shortcodes to choose from, customizing this theme is very easy.
PictureThis
Best for photography and portfolio websites but is also great for other similar projects. Easily replace lightbox theme within the Admin Panel. Upload as many images as you wish for the fullscreen background image slideshow. Truly a picture-perfect theme!
QualiFire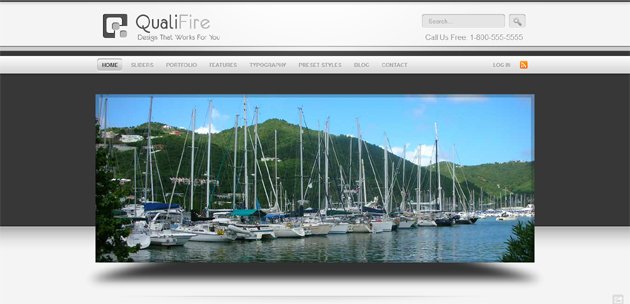 As a major feature, this theme is search engine optimized so attracting the right web visitors won't be a problem. It has several convenient options for easy customization. The theme is widget-ready and offers 9 beautiful styles to pick from.
Photorific
You can upload as many background images for each page, post or portfolio item. The images are automatically resized to fit the screen resolution so the images will always be beautiful for your web visitors. Comes with great looking fonts too!
Atlantica
This unique WordPress theme is designed with clean and simple lines that adds beauty to its elegant layout. It is really ideal for designers, artists, photographers or anyone looking for a complete portfolio template.
View the Demo (no longer available)
Flashlight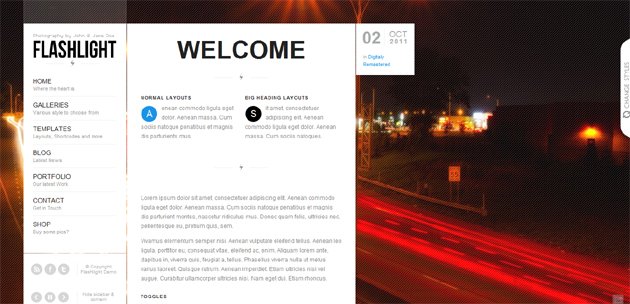 Designed to make gallery management a simple task for anyone to do. You don't need any coding skills to fully customize this amazing WordPress theme. You automatically have 5 unique Gallery Types to choose from on how you wish to showcase your work.
View the Demo (no longer available)
ANAN
With the built-in Font Manager, you can upload your favorite fonts in no time. The full screen slideshow for photo gallery is really stellar especially in displaying your work. This theme is very ideal for photography, personal or portfolio websites.
Black Label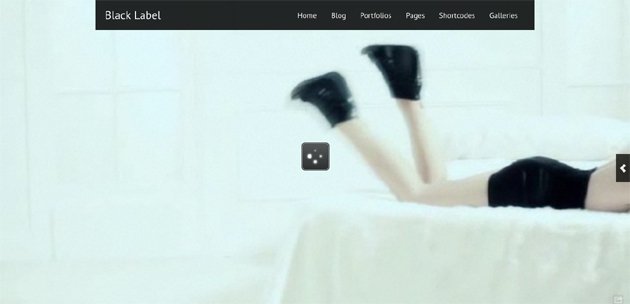 You can upload HTML5, Image or any Video as a full screen background. If that's not magnificent enough, you will surely enjoy the long list of other powerful features such as built-in AJAX contact form, 2 skins, sidebar generator plus many more.
Studio8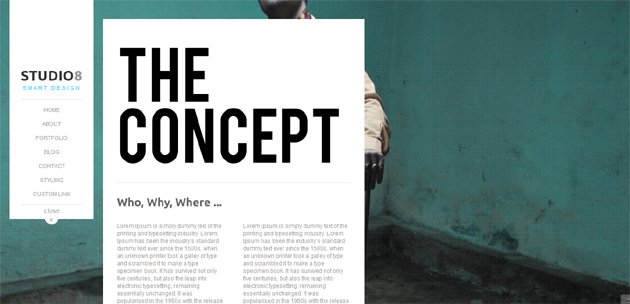 Minimalist themes are very popular particularly because it eliminates distractions. This theme helps put the spotlight on your content while not sacrificing the design and layout. The awesome hover effects and collapsible navigation make this theme stand out.  The full screen slideshow is also very impressive.  Studio8 was released in Oct of 2011 and has already sold over 1,400 copies.
Levitation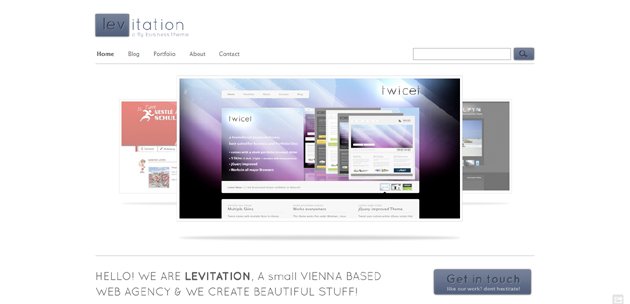 This theme offers 4 unique skins, 2 front page variants and multiple page templates to help you create the very best business or portfolio website.  Customize your theme without touching any codes through the Admin area. Here's an easy solution just for you.
What do you think?  Have any favorites not in the top 30?