Flashlike Photographer is a unique photography theme which showcases your photos on full-screen mode; this would mean, that all photos which you have uploaded appear as your WordPress theme's background. The background doubles as a slideshow area as well. Flashlike Photographer is a sleek unique WordPress theme layout which can surely attract photography aficionados.
Flashlike Photographer is CMS Theme for photographers. It allows you to publish your photos and present them in the best way possible.
View the live demo here.
Flashlike Photographer comes with comprehensive options page where you can set various parameters, such as:
Custom logotype
Google analytics code
Twitter username
Control how many tweets you want to display
Slide show interval
Key Features
Slideshow mode
Threaded comments with AJAX submission
Fullscreen photos
Auto thumbnails generation
Drop down menu for categories
Twitter integration
Your images appear as the background; you can change the background by clicking on a different image on the gallery slider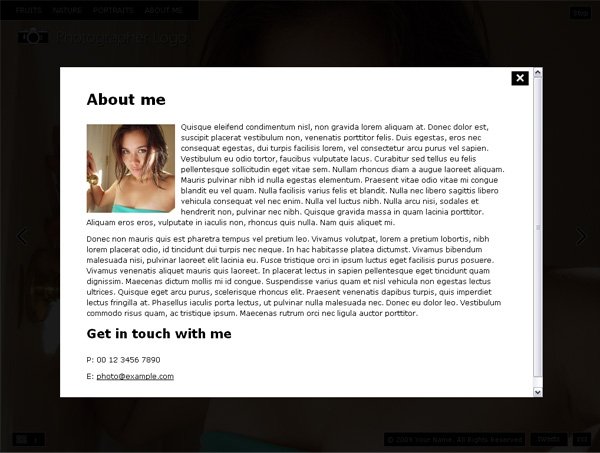 When you click on a page, the entire page blackens out and a Javascript based pop-up box appears