Gallery features 5 unique color schemes to choose from and a unique social media widget which can be used for connecting and sharing your photos to your friends on Facebook and Twitter. You can changes the settings on this theme via the Admin theme options panel.
GALLERY is a premium WordPress theme which can be used for many purposes, including a Photoblog, Portfolio, Personal Blog, Product Reviews, and more!
View a live demo here.
Key Features
5 Color Styles: Theme comes in 2 styles and 3 colors: blue, green, red.
Stylish Comment Form: The comment form is clean and attractive.
Full Width Comments: Comments are 100% width. Good for communities.
Unique Social Widget: Social Network icons are built-in in a widget, no need for plug-ins!
Split Posts into Pages: You can split long posts into multiple pages.
Comes in 2 styles, 3 color styles each
Threaded Comments
Support for WordPress 3.0
Widgetized Sidebar and Footer
Custom Fields for Images are optional
Dynamic image cropping for thumbnails (TimThumb script)
3 Specially Developed Widgets
Theme Options Admin Panel
Featured Posts on Homepage
Drop-Down Menu for Pages and Categories
Banner Ads Management System
Support for Google Analytics & Feedburner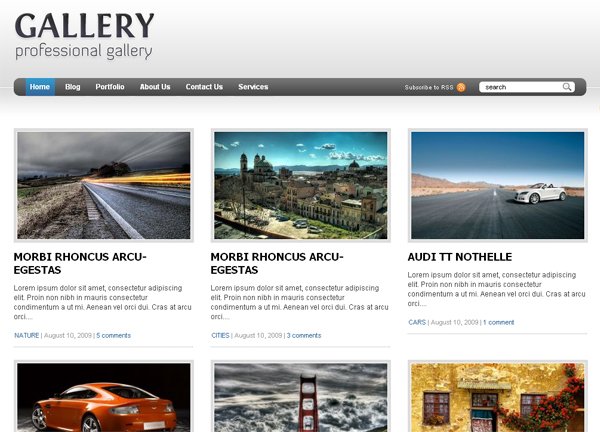 The Gallery theme boasts a wide gallery layout on the homepage which you can use for showcasing your photos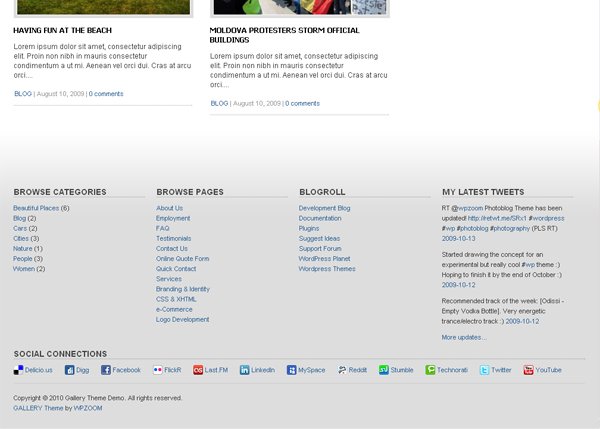 You can add as many widgets as you'd like to the footer