The Gateway Studios theme boasts a unique image slider with slideshow capability. You can change your entire theme layout to 3 different color options such as orange, black, and blue so you can further express your style through your WordPress color scheme.
Gateway Studios, Simplicity Overhaul features a simple yet beautiful design, that will impress your visitors with its delicate form. The theme comes with many great features that just work out of the box, without the need for plugins, making Gateway a very smart decision with everything Integrated.
A lot of flexibility has been integrated into the theme, so you can use it from a Personal Site, to a Photography Blog to a complete Studio Website. You have an arsenal of Features and Customization at your disposal, and also a Clean Design created with usability and typography in mind.
View the live demo here.
Key Features
3 Color Options: Orange/Black/Blue + Custom variant, create new color themes with ease!
CUB3R Integration, with Random/Manual transitions
Unique Image Slider
Fully Loaded Contact Form, with AJAX & Validation Features
Update Notifications, You will be the first to know when a new version is released!
100% Multilingual, customize & Translate the theme with ease
Automatic Image Resizing/Scaling
Custom Page Writing Panel, supporting Icons
2 Blog Layouts: Normal & Full Width and 2 Post Layouts: Normal & Full Width, each post can have its own layout
Extensive Theme Options, with 7 option pages, easy to configure
Custom Post Writing Panel, including CUB3R Controls
Built-in Pagination and Sub-Navigation, no need for plugins
Normal Logo / Full Width Header, with exact positioning
Built-in Portfolio Widget plus 7 Widget Areas to choose from
Automatic Dropdown Menus for Blog & Portfolio Categories
Custom Archives Page Template, which can be configured
Full Width Page Template
Threaded Comments, up to 5 levels
Portfolio Lightbox Gallery
Twitter Integration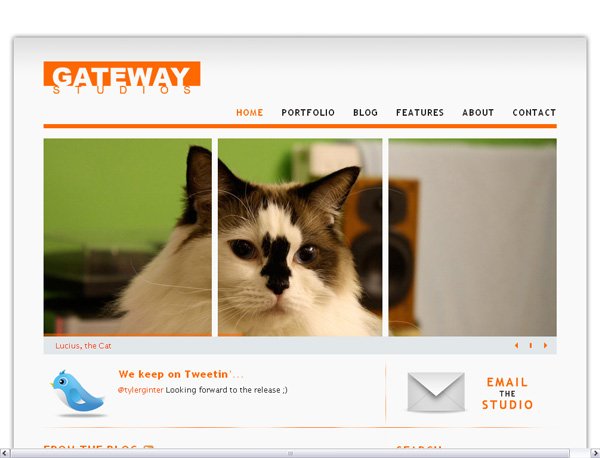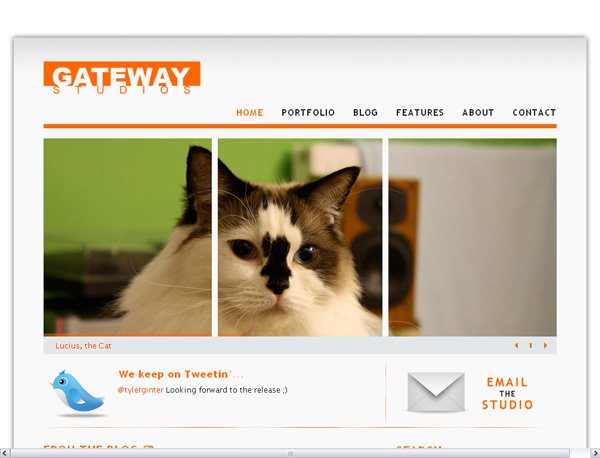 The Gateway theme would do well as a portfolio theme instead of a template to post your photos in. It's wide homepage slider is more ideal for showcasing products
You can showcase your other photos and work here