Here is the ultimate list of WordPress themes for photographers ever. I decided it was time to do something special and create the ultimate list.  After all I was the first person to research and put posts together like this for photography themes.
I get asked a lot about what themes are good for photography and it helps for me to keep a list handy as a reference. Some themes might not look like photography themes right off the bat, but they are all themes I'd consider using for websites for all types of photographers… from portrait photographers, wedding photographers, nature photographers, photojournalists and even iPhonographers.  This list of themes should work perfectly for any type of photography business though and even for amateur photographers just wanting to showcase their work.
WordPress is in my opinion by far the best possible CMS to use to power your photog site and this list of themes is testament to one of the reasons WordPress is so popular…  the variety of outstanding themes created by passionate designers solely for WordPress offers photographers an even wider array of designs than ever before.
So here it is… the ultimate list.  141 themes and counting!
Premium WordPress Themes
1.) U-Design – This theme puts you in control without the hassle of programming everything yourself. It has over 200 beautiful fonts, 6 impressive front page sliders, custom widgets and other cool features.
---
2.) King Size – Great for showcasing large images through full screen background slider. Pefect for a variety of purposes, although generally focused for photographers and other artists who need a portfolio website.
---

3.) Dandelion – This theme is powered by the easy-to-use Pexeto Panel. It's designed to professionally showcase your products and services online. From 32 custom patterns to unlimited skins colors, customizing is within your fingertips.
---
4.) DynamiX – Integrate BBPress and WP e-Commerce plugins without breaking a sweat. With the 5 types of galleries, this feature packed WordPress theme will surely do wonders for your website.
---
5.) Core – This is not your typical minimalist theme. Built with the most updated WordPress features around, it offers a simple design that will instantly highlight your photographs and other types of content.
---
6.) London Creative + – This is one of the best selling theme of all time for so many good reasons. Some of its amazing key features are the unique spinning slider buttons, sophisticated slider manager and the PrettyPhoto plugin.
---

7.) Photo Nexus – Pick either light or dark as your theme's color. This modern and minimalist WordPress theme is guaranteed to put focus on your content. Supports both landscape and portrait photos.
---
8.) PureVISION – This SEO friendly theme is packed with 200+ fonts, 5 homepage sliders and several page templates. You can easily create your website with very minimal effort.
---
9.) RockWell – Includes FreshPanel, an amazing WP Theme Options Panel especially for you. There are so many things you can do with this theme that your imagination is the only limit. Best for photographers, bloggers, designers, etc.
---
10.) Village – Here's a cool way of showcasing your pixel perfect photos! With this theme, you get 3 types of slideshows with thumbnails, 5 unique skins, 8 custom widgets, 4 gallery templates, 4 portfolio templates and many, many more.
---
11.) Sideways – This brilliant theme offers you an option to pick between a horizontal or grid layout. Its full screen background automatically scales to fit all browser sizes. Plus 20+ shortcodes to help you customize your website's content.
---

12.) Contrast – This WordPress theme is best for photographers, web designers, corporate websites, bloggers or anyone looking for something out of the ordinary. Enjoy 6 unique ways to showcase your work through several available portofolio/gallery layouts.
---

13.) KIN – This minimalist magazine styled theme comes with 2 skins to choose from. This supports both image and video gallery so it will surely impress anyone. You also can't ignore the jQuery effects included on this theme.
---

14.) Invictus – This premium theme enables you to showcase both videos and your photography in full screen. You get to pick from 2 available skins, 5 custom widgets, a few shortcodes and other amazing features.
---

15.) Duotive Three – With just one click, you can easily transform your website into a stunning photographic display by picking from 18 predefined color schemes. Other key features are the 9 beautiful fonts, 7 custom widgets, several kinds of sliders, plus a lot more.
---

16.) Avisio – Create your own skin and pick a font to easily customize this theme. Share your photos and other content to your social network by using the social media functions. Includes Lightbox plugin which is great for galleries.
---

17.) Folioway – This elegant WordPress theme comes with 12 background patterns, 40+ shortcodes, 6 page templates, social media buttons, nested comments, etc. Flexible and easy to use.
---

18.) Breeze – This beautiful theme is designed for corporate use but it is also great for showcasing your work as portfolio or for personal blogging purposes. It comes with unlimited skins so customizing is easy.
---

19.) Chocolate WP – Here's an elegant wordpress theme perfect in showcasing your photgraphic works of art. Get help from the Background Builder in fully customizing your website. Because this theme is full screen it is perfect for landscape photography.
---
20.) Studio Box – This 9 in 1 theme offers a simple way to setup a comprehensive online portfolio of your photography in just a few clicks. Easily impress your clients with an elegant presentation of your photos.
---
21.) DK – A perfect theme for displaying large images. The fullscreen slideshow photo gallery is an amazing presentation tool. Supports your social media profiles by adding buttons that your web visitors can easily click.
---
22.) PictureThis – This theme is suitable for a wide variety of purpose but it is best suited for photography or portfolio websites. Uploading images is a breeze plus you can upload as many as you like for the fullscreen background slideshow.
---
23.) QualiFire – This beautiful theme is SEO ready and has several options for easy modification. It comes with 9 preset styles and several useful widgets to choose from. Supports several languages for quick translation purposes.
---
24.) Photorific – What makes this an amazing theme is its ability to automatically resize images to fit any screen resolution. Your web visitors will always have a terrific experience browsing through your website. Comes with beautiful fonts too!
---
25.) Atlantica – You will never go wrong with clean and simple lines. This theme's design has a very elegant layout that will surely help your content standout. Ideal for artists, photographers and designers looking for a portfolio template.
---
26.) Flashlight – This theme is suitable even for those who don't have any coding skills. It offers a unique way to showcase your work through the 5 available Gallery Types. Search engine optimized plus other key features.
---
27.) ANAN – It comes with a built-in Font Manager so you can use your favorite fonts. This theme is best for portfolio, personal or photography websites that needs a stellar way of displaying artworks.
---
28.) Black Label – The full screen background supports HTML5, Video and Image files so you can fully utilized it in showcasing your work. This theme is packed with several dynamic features like sidebar generator, 2 skins and many more.
---
29.) Studio8 – The fullscreen background gallery is great for featuring your work. This minimalist theme will help highlight your content through a quick and easy setup. Includes hover effects and collapsible navigation.
---
30.) Levitation – This theme comes with 4 unique skins all rolled into 1 amazing template. Easily customize even without touching any codes. Create a beautiful website for your portfolio, business or even for a personal blog.
---
31.) Photolux – Powered by the advanced Pexeto Panel, this powerful theme provides several options to manage and customize your website. You get 3 base skins; Transparent, Dark and Light plus numerous other handy features.
---
32.) Locus – This theme has a responsive layout which makes it look great on any device. It comes with 3 skins, built-in contact form, filtered portfolio and many more. A extensive HTML documentation is available for easy setup.
---
33.) Slash – This theme is effective in showcasing any type of work and is most suitable as portfolio, photo-gallery or blog. It doesn't fall short in robust functionality and other features. It has a responsive layout that's great for mobile devices like iPhone or iPad.
---
34.) Aperture – This is a multi-functional theme suitable for photo blogging or even for displaying previous artworks. It comes with 12 alternate styles, unique home page, visual archive system plus many key features.
---
35.) Digital Farm – This theme is bundled with a customizable header region, optional sidebar slider and portfolio page template. Other key features are the 7 alternate color schemes, 4 custom woo widgets and 2 widget-ready sidebar spaces.
---
36.) Optimize – Stunning looks with superb functionality built in to the new WooFramework. Its front page is fully customizable to showcase your work or product in a sleek fashion. Packed with several powerful features.
---
37.) Inspire – This theme comes with a jQuery powered home page featured area that's good for showcasing your work in style. It also includes a portfolio page template which utilizes prettyPhoto for added effect.
---
38.) Caffeinated – Here is a suitable theme for anyone looking for a bold way of showing off their work. Some of the key features are the 7 alternative color styles, 3 widget-ready areas, custom homepage, portfolio page template, etc.
---
39.) Elefolio – Easily impress any visitor with this theme's simple yet detailed look. Includes social media buttons, portfolio section, Dribble stream, custom homepage, widgetized sidebar, 9 alternative color styles, tumblog functionality, plus many more!
---
40.) Biznizz – Give your website a new look with this amazing theme. It includes an integrated slider, custom homepage layout, portfolio template, jQuery powered featured area, custom typography, 10 unique color styles and several custom widgets.
---
41.) Simplicity – This theme means business. Its clean layout is hugely customizable to look exactly how you want. Show off your beautiful photographs on the homepage featured slider. PrettyPhoto can beautifully display your work in a lightbox too!
---
42.) Kaboodle – If you are looking for a clean layout theme, then you finally found the perfect solution. Aside from its spiffy design, it includes featured homepage slider, custom typography, several widgets and 9 unique color styles. Plus easily link your Dribble account.
---
43.) Canvas – You can easily change the design, typography and layout to customize this theme through the Options Panel with just a few clicks. You easily upload your images to be the background or header image plus more awesome features to boot.
---
44.) Briefed – With its modular layout and minimalist design, this theme is fit for all sorts of photographers, designers and other creative artists. You can switch and choose from 9 available color styles. Packed with tons of features and a crisp look!
---
45.) Olya – This theme looks good on your computer's screen and in all other devices thanks to its responsive layout. Highlight your noteworthy work through the portfolio section and homepage featured slider.
---
46.) Beveled – Cleverly display your photos or showcase your other types of work with this sophisticated theme. Plug in the WooTumblog and you can enable posting content on the go. Fully responsive layout so it'll look good on any device.
---
47.) Teamster – If you need a website where other photography enthusiasts can post their work or a hub for your portfolio, this modular theme is all you need. Primarily designed to serve as a magazine theme, it is also suitable for showcasing your work.
---
48.) Currents – Some access the web mostly through their phone so having a responsive theme is essential. Less is definitely more in the case of this minimalist theme. Highlight your pixel-perfect photos through the Featured Post Slider right on the homepage.
---
49.) Buro – This theme has a responsive layout that allows you display optimally at all browser resolutions on any device. The jQuery powered homepage featured slider is a great tool for showcasing your work plus the slider pagination helps in easy navigation.
50.) Whitelight – This minimalist theme comes with a responsive layout that scales itself based on the device's screen resolution. How cool is that? Additionally, you get a customized modular homepage, portfolio functionality and even possible to integrate with WooCommerce in case you'd like to sell your photographs or something.
---
51.) Catalyst – This premium theme provides several amazing features to help you build a website with multiple portfolio and blog post styles to choose form. Hundreds of icon shortcodes available; easy to customize.
---
52.) Echoes – Designed to help rapidly build portfolio or business websites. It has 5 Portfolio Page Styles, 19 shortcodes, 3 Featured Mainpage Styles and 11 Unique Skins to choose from. Packed with other key features that will help you get started easily.
---
53.) Clear – This is suitable as portfolio, business, photography, gallery or for personal blog site. The light color schemes help create a sophisticated, minimalist theme perfect for your next website.
---
54.) Anthology – This theme includes several features that will help you display your work in a very professional manner. It is highly flexible so customizing its color and general look is completely simple to do with just a few clicks.
---
55.) Angular – This premium theme has a responsive layout that allows you to showcase your work beautifully on all types of devices. You can easily modify its layout, colors, fonts and styling from the backend without breaking a sweat.
---
56.) Acoustic – This theme has a minimalist style that comes with a plethora of features like the advanced Pexeto Panel that will help you modify the theme easily. This theme is suitable for any website that focuses on business, photography, portfolio or even personal.
---
57.) The Cotton – This theme has an elegant and professional look that is most suitable for any business, photography, portolio or even for personal use. Changing its color scheme is very simple and for most parts you don't need an image editor either.
---
58.) Synthetik – With its filterable gallery, this theme is good for graphic designers, photographers, illustrators, web designers and all types of artists. On the other hand, it has blog section also that is suited for a personal website.
---
59.) Alabastros – This theme includes 3 unique homepage styles, 2 unique portfolio stlyes, custom post types, lightbox with video support, built-in ajax contact form, timthumb and a lot more powerful features. This modern portfolio theme is perfect for all types of users.
---
60.) Flex – As the name aptly suggests, this theme is literally very flexible. Th VGrid pluing enables this theme to automatically scale to match the web visitor's browser. Ligthbox supports both images and videos.
---
61.) Broadside – Upload your own image to serve as a full screen background. It comes with a video page template and the portfolio lightbox supports video too! Several built-in shortcodes that are extremely helpful.
---
62.) Atlas – This has 4 homepage styles to choose from plus a wide variety of other features like 30 header fonts, built-in font manager, 6 gallery page options, 8 custom widgets, built-in shortcode generator and a whole lot more!
---
63.) Adventure – Its unique look is very refreshing and you may even think this is a custom made template rather than a WordPress theme because it ditches the typical layout. Consequently, this theme focuses on your content beautifully.
---
64.) Design Agency – Nothing can be more straightforward than this theme with a magnificent clean design and layout. Essentially made for studios and design agencies, this template is full for features for photographers looking for a great way to showcase their images.
---
65.) Duotive Fortune – This theme is a total standout with its 720 custom backgrounds! You also get 20 built-in color variations with an option to create your own using the color picker. Powered by the almighty Duotive Adming Panel v2, you will surely love this theme.
---
66.) Brick + Mason – One of its unique feature is the infinite scrolling which allows users to stay on the same page and have a better overall experience. Plus, it uses jQuery masonry plugin to scale its layout and content to fit any browser size.
---
67.) Los Angeles – Designed as a portfolio theme but can also be used for just about any other purpose. Aside from the beautiful layout, it comes with a powerful admin panel that enables you to change, remove or modify just about every aspect of the theme!
---
68.) Humble – This theme has tons of features to boast about such the amazing Polaroid Slider which you can only find on this theme. You also get over 80 shortcodes, 6 custom widgets, and 19 beautiful font face to use.
---
69.) Sabuy – What makes this theme special? It has a unique homepage photo wall that you can easily modify the width, height and rows of images. The photo wall is a great way to showcase your work in an unconventional and interesting way.
---
70.) BroadScope – This theme comes with a built-in Options Panel, visual shortcode editor and content importer that will surely help you get started in no time. Whether you are an beginner or an advanced user, setting up your new site won't be problem with this theme.
---
71.) Themeology – It comes with over 20 unique skins plus it is super easy to create your own color scheme. It also has 4 Gallery layouts, 2 Blog Layout options and Homepage Layouts.
---
72.) Clearly – There are over 20 awesome widget-ready areas waiting to be explored. You can use several nifty shortcodes which makes it super easy to manage your content. It also comes with a custom reusable Twitter widget.
---
73.) AirWP – This is a great minimalist WordPress theme that includes several Google Web Fonts. There are many pages templates to choose from such as the 3 portfolio pages and 2 blog page layouts.
---
74.) Strange – You can showcase your photos through the flickr stream, post your contact info, promote your twitter and many more extremely helpful custom widgets. It also comes with 16 background textures to choose from.
---
75.) Photoshot – You can easily upload photos to the favorite box and view them on the fullscreen slideshow. This theme comes with light and dark skins plus you can easily disable right-click option to help protect your photos from snatchers! Pretty nifty, isn't it?
---
76.) Pacifica WP – With 8 unique skins, you can easily customize this theme for your website. Whether you need an image gallery page for your huge collection of photos or just to showcase a few images, this is a sophisticated solution for it.
---
77.) Landscaper – What can be more beautiful than to display your images on a fullscreen slider? Its modern look comes with user-friendly features that will help your website standout in no time.
---
78.) Sublime – Here's an easy choice for photographers, creative agencies and pretty much anyone else looking for a minimalist WordPress theme with gorgeous iconography, elegant font choices and striking accent colors.
---
79.) MinFolio – This gorgeous theme is suitable if you want a sophisticated look for your website. You get 5 custom templates and 7 custom widgets to play around with plus an Advanced Admin Options for easy theme management.
---
80.) Starttica v.2 – Since this theme is fully customizable, you can use it for a wide variety for purposes. It is packed with over 100 options in extended admin panel which makes this theme very irresistible. Great for your portfolio.
---
81.) Stylus – Its clean lines and modern layout are assets transferable to your website once you use this amazing theme. You can easily create as much portfolio/galleries as your heart wish. It also includes a Testimonial manager which is a great way to highlight what your clients can say about you and your work!
---
82.) MagicTheme – You will be pleasantly taken aback by its clutter-free presentation and elegant typography combined with its simple, fresh design. Plus the slick animated slide shows is a great tool in showcase or highlighting any type of content.
---
83.) Passion – Easy to setup, easy to use and easy to customize. With its mighty admin panel, everything's made to be easy. Showcase your work right on the homepage where most of your visitors can appreciate it.
---
84.) Lindo – If you are looking for a modern theme with filterable portfolio then this theme is for you. With the help of shortcodes and widgets, you can build a professional website in just a clicks. It is so easy to use!
---
85.) City Vision – Another cool way to showcase your work is to create a mini online magazine for it. This theme lets you manage your content through the Options Panel and configurable everything from there. Packed with several key features!
---
86.) Drag & Drop Photography Gallery – This theme has an amazing feature which lets you drag & drop photos using an advanced jQuery effects which works like how you sort photos on your desk. It looks like a Flash website without being one.
---
87.) Photobox – This theme was created specifically for photography or portfolio purposes. It includes 5 unique styles, 4 fonts, 3 page styles, 3 custom widgets, multiple layout arrangements and a main sidebar. Easy to setup in just a few minutes.
---
88.) Fullscreen Photography – Your high-quality images deserve to be displayed where every pixel can be appreciated. What better way to showcase your photos than a fullscreen display? This theme has a stunning look that will surely capture anyone's attention.
---
89.) Photo Workshop – A mobile-friendly photography and portfolio theme that is great in showcasing your photos and in pitching your services to the world. Changing the site's colors is simple with the help of a color picker.
---
90.) Uno – This minimalist theme has a responsive layout and even its slideshow scales to match the screen resolution. You can easily show your portfolio to anyone via any mobile device. Your portfolio can now live inside your pocket!
---
91.) Retouch Pro – This theme's swipe-enabled galleries is simply amazing on any mobile device. Its minimal design comes in 5 different styles plus its responsive layout will easily resize to match the browser window's size.
---
92.) Sidewinder – If you like to post several photos on a gallery, this theme will make you happy because you can insert galleries on any Posts or Pages you create. Plus you can use your favorite Google Web Fonts on this theme!
---
93.) Emporia – Aside from the freedom to choose from 5 Alternative Styles, it is worthy highlighting the fact that you can easily choose to a three-column page layout or just the standard one. Homepage slider is optimized for mobile devices too!
---
94.) Widescreen – This SEO-friendly theme features multiple homepage layouts such as the fullscreen slideshow that's good in showcasing your photos. You can change the look and feel of this theme with just a few clicks.
---
95.) Focal Point – With 4 alternative stylesheets, you got yourself covered in terms of changing the look and feel of this theme. It also includes several shortcodes for adding column layouts, post buttons and a lot more cool things.
---
96.) Immense – This theme can feature your photos on a fullscreen slideshow that can scale to fit any resolution. Aside from its responsive layout, there are several other key features like custom fonts, several post types and many more.
---
97.) Workaholic Pro – This is best suitable for anyone looking for a great way of displaying their work. This modern theme allows you to separate your blog from your portfolio without touching any code.
---
98.) Workspace – It includes 8 homepage apps that will make your life so much easier. You can easily drag & drop widgets to the sidebar or footer. Highlight your content with this powerful WordPress theme. Its minimalist design is highly customizable.
99.) On Assignment – Best suitable for photographers, designers, artists or anyone who needs a fully-functional portfolio that will update and connect to potential clients through regular updates or blog posts.
---
100.) Modslider – Its monochromatic color palette is so simple and yet so striking especially once you upload your colorful photos. It instantly create a neat presentation of your content with its image slider.
---
101.) Mixfolio – It's an HTML portfolio theme that is great for posting images, videos, galleries or even just standard posts for your blog. There are several post formats to help you get started plus it has a responsive layout perfect for mobile devices.
---
102.) Modfolio – There are 10 homepage layouts to choose from plus changing the theme colors is just a breeze. You can easily monetize this theme by adding advertising code through the powerful Theme Options page.
---
103.) Fullscreen – This theme wastes no space as it offers a fullscreen canvas for your work. It gives you a unique way of showcasing your work online using a minimalist side-scrolling homepage.
---
Free WordPress Themes for Photographers
Here are free themes for photographers to use.

104: F8 Static – Simple, clean grid layout, menu customization, fully widgetized, easy to produce post thumbnails and more.
---

105: PhotoBlog– Extremely simple and therefor timeless. No fixed width, no widgets.
---
106: Autofocus + – Theme options, optional featured posts, support for video and gallery embedding, optional EXIF data display.

107: Monokrome – 960 grid, Flickr integration, widget ready, easy to configure with built in options.
---
108: Work-a-holic – Two and three column WordPress theme that focuses mainly on showcasing portfolios. Clean grid layout, fully widgetized + +
---
109: Shaken grid – Gallery/portfolio theme with a unique grid layout. Uses the jQuery Masonry plugin to arranges elements.
---

110: Fotofolio Landscape – Theme options, easy to use, thumbnail resize, jQuery integrated. Keeps your images in focus using a creative yet professional layout.
---
111: Snapshot – This theme has different layouts and color schemes available. Also backend theme options, auto sizing thumbnails (built-in script), custom page templates and more.
---
112: Fullscreen – One-column photography and multimedia theme. Easily present your latest photos using a minimalist side-scrolling homepage. Fully widgetized and of course WordPress 3.0 menu support.
---
113: Mansion – Mansion features a flexible-width thumbnail grid for both images and photo journal entries. This theme is for those who want to primarily showcase their photographs and maybe occasionally write blog posts.
---
114: Hyku – Horizontal scrolling. Meant to feature photos only. Easy to use with Flickr, no comments.
---
115: Bluebubble – Clean and simple. Several styles/colors, advanced theme options panel, colorbox image pop up, contact form, auto image resixing ++.
---
116: Imbalance – Very stylish theme with own twitter widget, own jquery gallery, many options, jQuery-powered header and more.
---
117: SLR Lounge – Featured slider, many theme options, customizable/widgetized footer.
---
118: Gallery – jQuery slide hover effect on thumbnails, lazyloading for thumbnails, built-in social media links for all items and more.
---
119: Viewport – Simple, 1 column. Posts display in a timeline. Scrolling timeline, inline loading of posts, pages and YouTube videos and more.
---
120: Tofurious – Simgle column. Widgetized sidebar footer, iPad/Mobile compatible, roll out tags, customizable profile selection ++.
20 More All New Photography/Portfolio Style Themes
121: Attracto – Attracto is a responsive WordPress theme with a sortable masonry style portfolio. Attracto includes both light and dark skins as well as some other features like 6 custom page templates, custom post types, support for self hosted video and audio and more. The homepage slider as well as the portfolio and gallery sliders are powered by Flexslider.
---
122: Cluster – Hey if you're looking for a really nice clean minimal designed website for your photography business this theme is perfect. Whitespace really makes this theme stand out I think. The navigation with dropdowns on the left is very responsive not to mention the entire design is responsive. You pretty much just have to check out the demo for yourself to get a feel.
---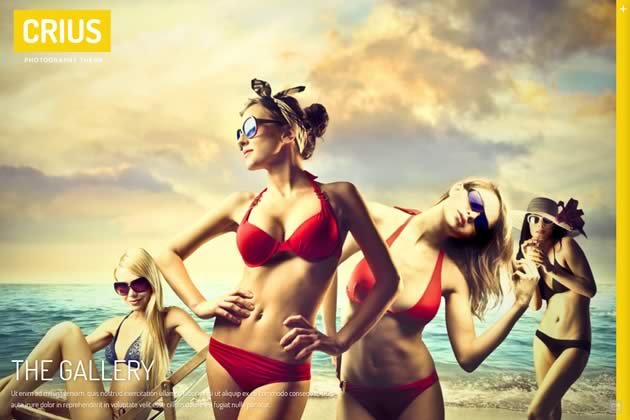 123: Crius – Crius is a responsive theme and includes cool Ken Burns style slideshows. Includes 6 gallery templates, advanced admin options and audio player for the homepage. The main navigation slides out when you mouse over the right bar which is pretty cool… it means the navigation is out of the way for users to focus on your work.
---
124 Fenix – Fenix is a fullscreen image and video WordPress theme that keeps things simple and straightforward. Yes you can load fullscreen videos into the background of this theme and although I've never really seen a site using this method it's there for you to use, but I assume most photographers would use it to display photos. Incudes an audio player, 40 custom fonts, 30 shortcodes and more.
---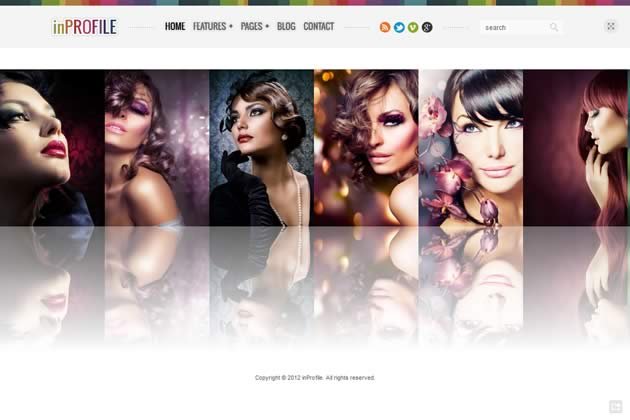 125 inProfile – inProfile was just released on May 2nd and is a sleek gallery theme for fashion photographers or portrait photographers to showcase their best work.
---
125: Jupither – Jupither is a responisve WordPress theme that includes a very impressive ajax-powered one-page gallery template that allows you to showcase your work in a very nice way. Jupither includes a standard blog template for your blog and includes both dark and light skins. Includes some shortcodes to display things like tabbed data, toggled info boxes, buttons and more.
---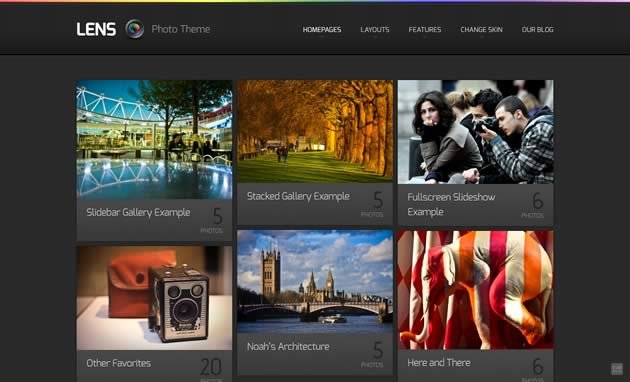 126 – Lens – Lens makes use of the new CSS3 and javascript technology to create an almost flash-like feel. It comes with three different gallery layouts and different photo layouts. Lens comes in both light and dark skins and includes shortcodes, filterable portfolio, auto-sized thumbnails and built-in contact form.
---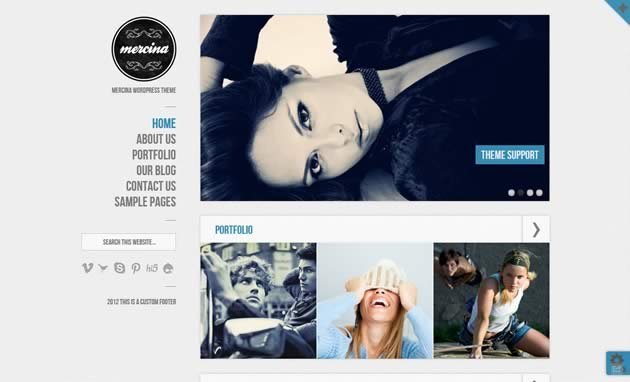 127 – Mercina – Mercina features a filterable portfolio and includes both dark and light skins. The custom control panel allows full color management and the theme overall includes some more of the things you'd expect from a premium WordPress theme like custom widgets, shortcodes, 2 custom post types. This theme was released April 17th, 2012.
---
128: Newport – First thing you'll notice about Newport is the stunning shadows, but when you look deeper you'll find a plethora of features includes 3 sliders, 4 homepage variations, 11 skins, unlimited portfolios, shortcodes, 16 page templates, 6 custom widgets and more.
---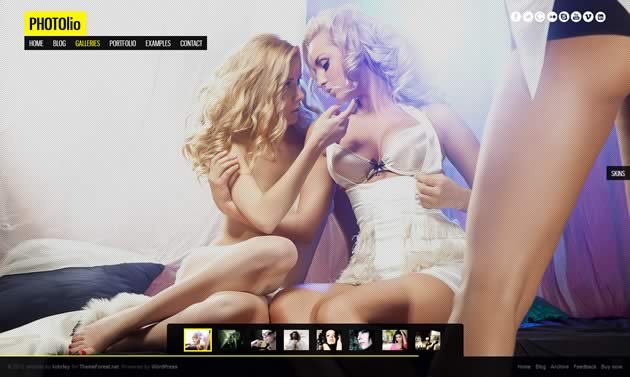 129: Photolio – Photolio is an impressively bold looking theme perfect for photographers. The author Kotofey just added 7 new transition effects you'll have to see. The bold look of this theme will be attractive to any photographers who take more edgy "hip" photos I think. Includes 6 different templates to showcase your work and creating a gallery is as easy as uploading your images. Released April 5th, 2012.
---
130: Plento – Plento is another fully responsive theme with fullscreen background slide shows. Includes a filterable portfolio and ajax contact form. This theme was just released May 15th, 2012.
---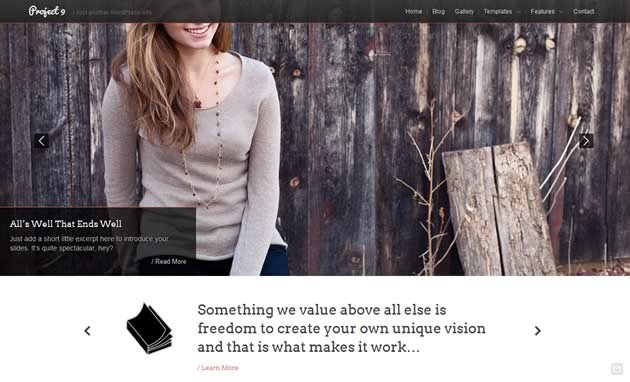 131: Project9 is a responsive theme with 5 custom post types, 7 page templages, masonry blog layout and tumblr-style post features with attention paid to SEO. It offers a clean layout and is perfect for photographers who like to photoblog more than creating just a standalone portfolio.
---
132: RSW – or Responsive Fullscreen Studio for WordPress is a powerful theme for photographers and creative artists and comes with Light and Dark with theme options supporting multicolor customization of theme elements using color pickers. Check out the demo to get a feel.
---
133: Shutter – I really like Pixelentity's work. He's just released Shutter; an elegant and minimal theme for photographers. It has a fully responsive fullscreen gallery at its core. So the focus will be on your photographs and will look great across multiple platforms including ipads, iphones, etc. The feature list of this theme is really impressive and should dbe given a good look.
---
134: SmartStart – Another theme you wouldn't suspect as working out for a photographer's portfolio but this one would work great IMO. If you're doing product photography and have stunning shots this theme would really showcase your images well. Responsive HTML5 and CSS3 tableless design along with all the bells and whistles, ie. slide managers, custom post types, shortcodes w/ generator, pricing tables!, filterable portfolio and the list goes on and on.
---
135: Squared – a fullscreen image slider with nice captions are the first things that catch your attention with this new theme from Christian over at UDFrance. He's created another impressive ajax driven theme with a ton of features including a fullscreen gallery, ajax contact form, shortcodes, easy gallery set up and more.
---
136: SquareGrid – SquareGrid is a responsive theme with an impressive grid-based layout. It has 5 different post layouts so you can display your work the way which bests suits you. SquareGrid includes both dark and light skins in case you want a white background. Each gallery can include video or images or both and each page can include its own custom background image.
---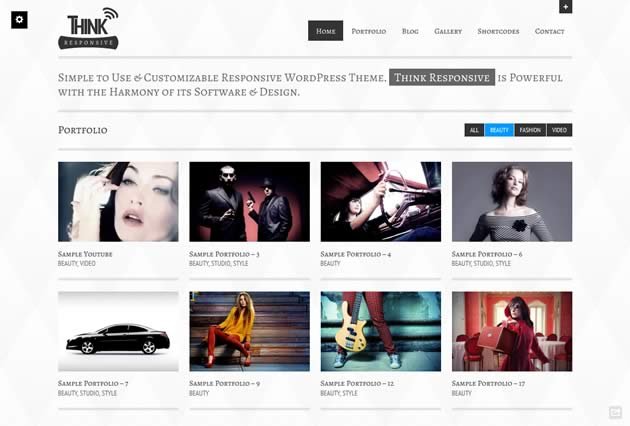 137: Think Responsive – a responsive theme designed for photographers or designers that includes an animated portfolio on the homepage where when you click on any of the images the page loads the image inside the same page which is one of the more cooler things designers have done with portfolios IMO. Includes both light and dark skins along with a host of other features that are too impressive to list here.
---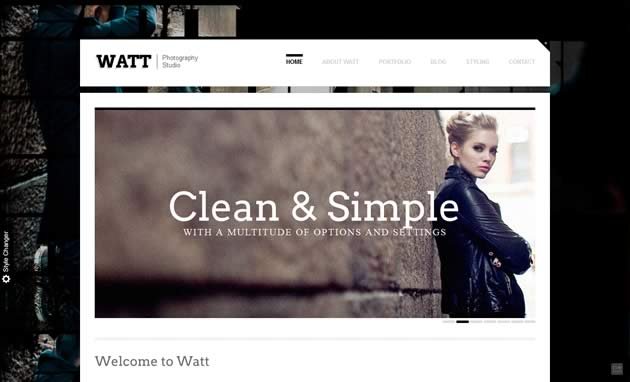 138: Watt – Watt is a clean theme perfect for photography/design studios wanting to showcase their work in a clean modern way. Includes NIVO slider along with caption support and Filtered Folio and lightbox support. The custom control panel allows you to easily set up this theme in minutes.
---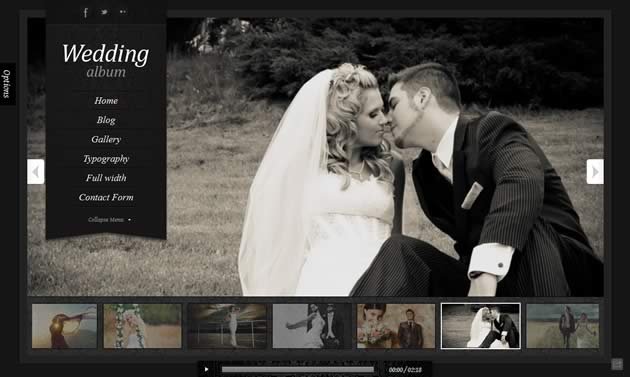 139: Wedding Album – Wedding Album as the name suggests is a theme for personal weddings or if you're a wedding photographer a nice theme to showcase your portfolio. At the forefront of the design is the fullscreen image slider which includes easy thumbnail as well as button navigation. First thing you'll notice is the music loading and starting to play so that's a plus for those of you who want music playing in the background of your site. Another cool feature is that you can password protect the entire site or just the galleries for protection against unwanted eyes. With multiple gallery and blog layouts this theme should fill the need of many wedding photographers I think.
---
140: WP Show Off – Display your portfolio of photos or designs in a clear minimal manner with WP Show Off. Each image on the homepage when clicked will open a lightbox or when you click "Read More" will be taken to another page that includes a nice slideshow in the header. Very minimal, but nice and lessens the distractions which is a nice touch. I think iPhonographers will take a liking to this theme as well.
---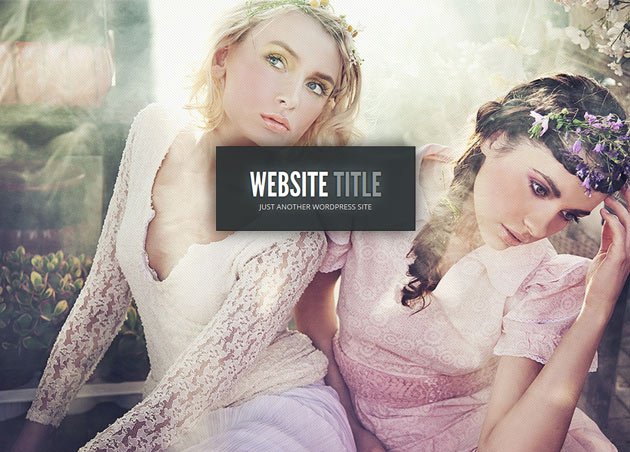 141: Gleam – Gleam is a new theme from Elegant Themes that is designed to impress.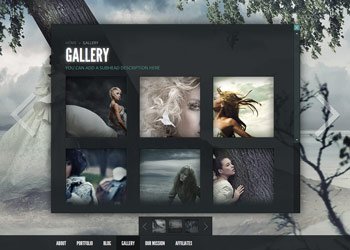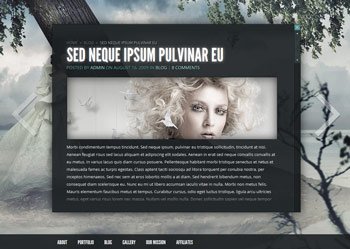 Gleam was built to dazzle. With its flashy effects and smooth ajax loading techniques, this theme creates a truly unique experience that is sure to grab your visitor's attention. Allowing for custom full BG photos for each page, Gleam makes it easy to create a custom stunning appearance for each section of your website. The theme also comes with a full-screen portfolio section, giving you a new way to display your work.
Gleam Feature List:
Opera compatible
Netscape compatible
Safari compatible
WordPress 3.3 compatible
Ajax Loading
Threaded Comments
Optional Blog-style Structure
Gravatar ready
Firefox compatible
IE8 + IE7 + IE6 compatible
Advertisement Ready
Widget ready sidebars
Theme Options Page
Custom thumbnail images
PSD files
Valid XHTML + CSS
Smooth tabless design
Pricing: Gleam is included in the $69 yearly subscription fee.  Elegant Themes gives you access to over 87 themes for less than $70 a year, IMHO is still the best deal out there as far as what you get for the price.  $69 for unlimited website usage is an amazing deal.
Get a better sense for how Gleam reacts to your browser by viewing the demo here.
Conclusion:
There you have it… a big o'l list of WordPress themes for photographers. Are there any that I left off the list?.. Sure, but there had to be some limit to this page.   I will be keeping this post up-to-date as time goes on so be sure to bookmark this page. Also please subscribe to the RSS feed.